Assa Abloy

ASSA ABLOY is the largest global supplier of intelligent locks and security solutions. Its products account for more than one in ten of all lock and security installations worldwide. Since its formation in 1994, ASSA ABLOY has grown from a regional company into an international group with around 43,000 employees,  sales of about SEK 47 billion and own operations in over 70 countries.

The Group's strength is the variety of traditional and new products that can be combined to create a large number of different door environments. ASSA ABLOY has products for different climates, different types of buildings and differing security and safety requirements. By combining hundreds of thousands of components to meet the needs of consumers, architects and installers, the Group creates products with the right quality, design and price, which are ideal for both new buildings and renovations.
ASSA ABLOY is represented on both mature and emerging markets worldwide, with leading positions in much of Europe, North America, Asia, Australia and New Zealand. 
ABLOY EXEC
ASSA ABLOY is represented on both mature and emerging . advanced ABLOY® EXEC high security cylinder provides extensive master-keying features and vast number of key combinations. It offers smooth and reliable operation and optimum resistance against physical attack.The ABLOY® system offers maximum key security with restricted, patented key profiles and key security levels.The unique construction of the ABLOY® EXEC detainer disc cylinder is virtually pickproof and provides a vast number of combinations. One of the principal features of ABLOY® EXEC is the extensive master-keying possibilities which combine high security mechanical access control and convenient key use. Locks from different Industrial Locking product groups can be master keyed into the same key system. Optimum resistance against physical attack is assured by using case-hardened steel components.

ABLOY® EXEC discs are controlled by the advanced Disc Steering System which contributes to its easy, smooth operation without the resistance usually associated with conventional pin tumbler cylinders. The absence of pins and springs ensures that ABLOY® EXEC provides both durable and reliable operation as the disc principle is resistant to the type of failure often caused by dirt and corrosion.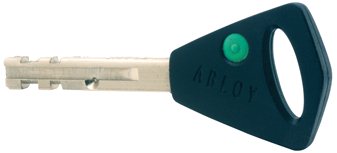 To guarantee maximum customer security, the ABLOY® EXEC system offers a variety of patented key security levels.
The compactness of the ABLOY® EXEC cylinder makes it ideal for most applications. The comprehensive range of ABLOY® EXEC products includes cam locks, furniture locks, padlocks and custom-made cylinders.

Features

       • Nickel-silver key with heavy duty polymer key bow
       • Patented key, key blank and cylinder construction
       • Particularly suitable for industrial locking systems
       • Exceptional picking and environmental resistance