Key Systems
Master Keying is where a series of locks work with individual keys but are also accessible using a Master Key system. Master Key systems are hierarchical using patent protected keys and lock cores to restrict the access people have to certain areas of a building and stop unauthorised duplication. The special keys are only available to the locksmiths especially approved and the details of the key codes are recorded in an encoded database. This provides individual access to pre-determined area's that are specific to everyone's designated level of access. Please refer to the below table for a demonstration of a Grand Master Key System and a Master Key System.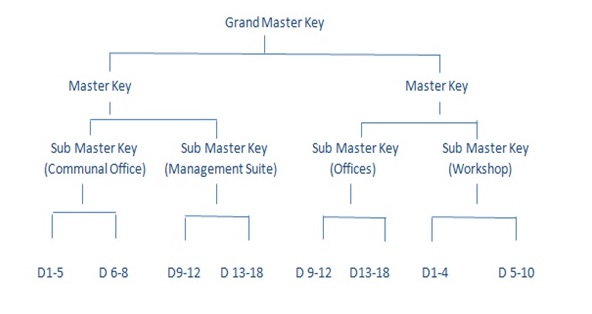 With a significant number of year's experience creating, stalling and being the custodians of high profile key systems, Securetek can offer an affordable, effective way to improve security no matter the size of the organisation. At Securetek we follow strict industry guidelines to ensure your keying system is not compromised by verifying that the authority criteria have been met prior to keys being issued. It is the key security solution to providing peace of mind you have been looking for.
other possible keying combinations:
KEYED TO DIFFER:
Each lock is created with a different code and can only be opened by its own individual key.
KEYED ALIKE:
A number of locks which can be opened by the same key. There is no limit to the number of locks that can be keyed alike.
MAISON KEYING SYSTEM:
Often used in communal apartment buildings or complexes. Each unit or door has their own key which will not operate any either door aside from the locks to communal access areas.
GRAND MASTER KEYING SYSTEM:
Each lock has an individual key and the locks are divided into two or more groups. Each group of locks are operated by one Master Key with an overall Grand Master Key.
TEMPORARY CONSTRUCTION  KEYING SYSTEM:
Locks are keyed alike for the builders' convenience and security for the owners. When the building is completed the construction cylinders are removed and final cylinders installed.