inner range: concept 4000
Inner Range has been an Australian designer and manufacturer of high-end security and integrated access control products since 1989. Its predecessor Concept 3000 system was first released in 1998 set a new benchmark for its era. Developed and re-engineered over the years, the technology has since been refined and the Concept 4000  has been its latest addition to the Concept range.
The Concept 4000 is a modular integrated hardware platform offering you an expandable, flexible and highly secure Access Control, Security/Intruder Detection and Automation package, offering a comprehensive array of configuration option. Operating from a single control panel, the Concept 4000 can support 16 detection devices enabling additional modules to grow the system to 50,000 user codes, 2000 inputs, 250 areas and 250 doors. Catering for a complete range of installations, the Concept 4000 will fulfil your needs from a single door system through a global multi-site application.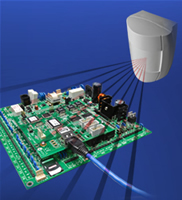 Key Features;
- Fully intelligent four door access modules provide full offline operation
- Cost effective two door access modules with offline cache functionality
- Fully featured lift control with button feedback, destination reporting and high level interface options
- Soft, hard, or timed anti pass-back and door interlock functions across any combination of the doors in the system
- Dual user and card +PIN functionality
- Monitoring of door forced, DOTL (door open too long), tongue sense and entry and entry /exit buttons
- Unrestricted access options via time zones, area status and more
- Area On/Off control from a door reader without PIN codes or terminals
- Extended door access times for disabled users
- User counting facilities
- Site code processing of a large range of Wiegand, magnetic stripe and many other formats
- Illegal card" and "too many PIN attempts" monitoring
- Touchscreen Terminal delivers simple, intuitive control of lighting, building automation and security functions
- Customisable LCD terminal with "help" screens
- Powerful diary functionality allows custom messages
- Keypad control by users of lighting, gates and other automation functionality
- RF key fob support
- SMS and DTMF control of areas and output
Providing a full system control with a few easy key presses, it couldn't be any easier. Please contact Securetek today to find out more.