Internet Protocol Security Cameras
Internet Protocol Security Camera or IP cameras is a type of digital video cameras which can send and receive data via a computer network and private IP LAN. In addition to providing additional security against hackers and hoaxers, IP Security cameras are recorded straight to the Network Video Recorders (NVR) which has a high capacity for storage and is easily accessible.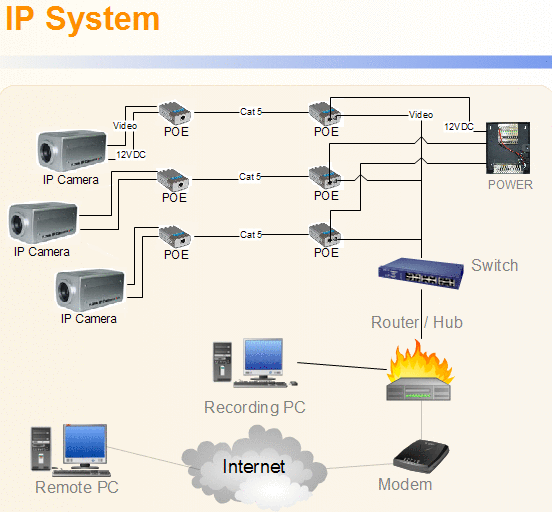 Network video recorder
The latest technology in security; NVR is a software program that record video in higher digital formats to any mass storage devices while working off a high speed network communication to transfer huge, high-speed, high- quality recordings from megapixel cameras. Providing all the features of a Digital Recording Device (DVR's) the true highlight of the NVR System is the clarity and quality of the images recorded. It is also encoded and processed within the camera, then streamed to the NVR for storage or remote viewing from wherever you are and without any delaying conversions before being recorded.
The digital network video surveillance system provides a host of benefits and advanced functionalities that cannot be provided by an analogue video surveillance system.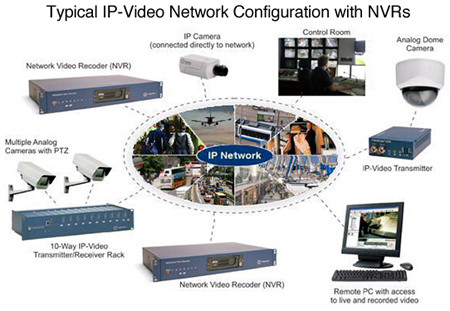 advantages of ip security camera systems:
- Remote accessibility
IP Videos can configure and distribute high quality video over any kind of IP network or the Internet, enabling authorised users to view live and recorded video at any time and from virtually any networked location in the world.
- cost effectiveness
An IP Network infrastructure is often already existing and used for other applications within an organisations, so a network video application can be easily added to the existing infrastructure. Furthermore IP Video products run on Ethernet networks, thus using standard PC service hardware for video recording and storage rather than additional costly equipment such as DVRs and additional wires which is involved for analogue CCTV Systems. This significantly reduces equipment and management costs. Higher- performing multi sensors cameras are also available, such as the eight megapixel quad 180 degree and 360 degree panoramic cameras which can drastically reduce user cost per unit area under surveillance by covering more ground than the traditional cameras.
- High Quality images
It is critical for high image quality in a video surveillance application to clearly capture an incident in program and identify persons or objects involved. With progressive scan and megapixel technologies, a network camera can deliver better image quality and higher resolution than traditional analog cameras.
IP network cameras are capable to provide up to 16x times the resolution of traditional analog cameras. Analog images are made of lines and each image is formed from two interfaced fields which are then converted to digital formats for viewing. At each conversion, the captured images are degraded and the further the analog video signals need to travel, the quality of images lower.
In a fully digital IP- Surveillance system, images from a network camera are digitalized once and they stay digital with no unnecessary conversions and there is no affect on the image resolution due to distance travelled over a network. In addition, digital images can be more easily stored and retrieved than in cases where analog video tapes are used.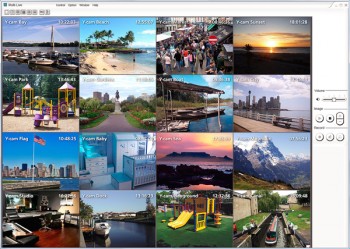 - Built in intelligence and analytic capabilities
Advanced network cameras and video encoders with built in intelligence or analytics reduce the amount of uninteresting recordings and enable immediate programmed responses. These features re not available in an analog system. Furthermore, some advanced IP cameras/ IP Video encoders have built in motion detection and alarm management, allowing the cameras to capture particular scenes and when to alert a specific operator for monitoring and/ or response.
- SCALABILITY AND FLEXIBILITY
Whereas the analog system will require additional coaxial cables for each additional cameras to a recording station; an IP System allows the flexibility and freedom to add more network cameras and video encoders without significant or costly changes to the network infrastructure. Network video products can also be placed and networked from virtually any location on a network using cost efficient connections such as Power over Ethernet (PoE) or eve solar power. Power over Ethernet (PoE) is a technology allows devices to supply and be supplied power through Ethernet cables. This saves the cost of also having to install power wiring, which not only saves time and costs, but significantly streamlines the installation and maintenance process overall. The system can as open of closed to suit your growing needs.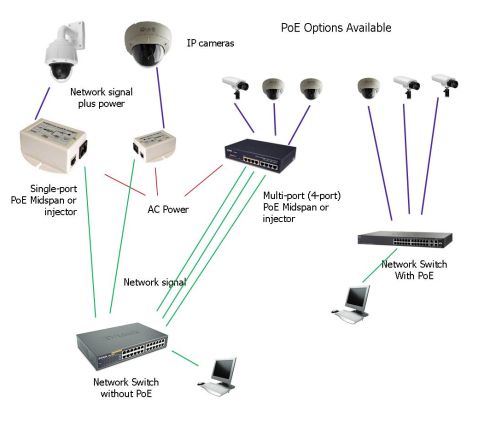 What's next?
Our main priority at Securetek is integrity and customer satisfaction, so contact us today to discuss the most suitable solution for your. Place your trust with our experienced and reliable technicians to be able to identify your needs and provide the answers you are looking for.